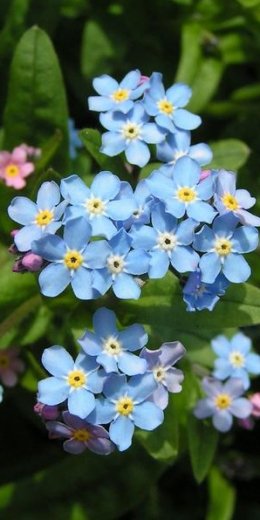 There is a legend connected with the name of the little blue forget-me-not which everyone loves so much.
It is said that a boy and a girl were walking by a river that flows into the Rhine. The girl saw a lovely flower growing just by the water's edge. The bank of the river was steep and the water swift.
"Oh, the beautiful flower!" she cried.
"I will get it for you," said the boy. He sprang over the side of the steep bank and, catching hold of the shrubs and bushes, made his way to the place where the flower grew.
He tried to tear the plant from the earth with both hands, hoping to get it all for her who was watching him from the bank above.
The stem broke and, still clasping the flower, he fell backward into the rushing stream.
"Forget me not!" he cried to her as the waters bore him down to the falls below. She never did forget her blue-eyed friend who had lost his life trying to get her a flower.
"Forget me not!" she would say over and over until her friends called the little blue flower by this name.
Now these blossoms are called forget-me-nots all over the world. And whether this story is true or only a legend, the dear little flower could not have a prettier name.
| | | |
| --- | --- | --- |
| | Sources And Further Reading | |
Project Gutenberg Classic Myths Retold by Mary Catherine Judd with drawings entirely from classic sources