This story I'm going to sing,
I hope it will give you content,
Concerning a silly old man
That was going to pay his rent,
With a till-a-dill, till-a-dill-dill,
Till-a-dill, dill-a-dill, dee,
Sing fol-de-dill, dill-de-dill, dill,
Fol-de-dill, dill-de-dill, dee.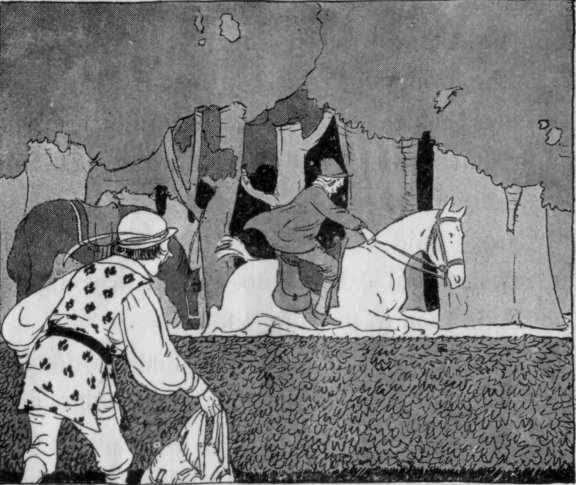 A silly old man said to his wife one day, "Well, 'tis time I paid my rent. The landlord has been away for a year and a day, but now he is back, and I must pay for twelve months."
"Yes, it's twice forty pounds that is due, and it should be paid," said the good wife. "So much money in the house keeps me from sleeping at night."
"Well, I'll bridle old Tib, and away we shall go," said the old man. "Right glad I'll be, too, to be rid of the gold."
The silly old man bridled old Tib and saddled her too. And away they started. As he was jogging along, a stranger came riding up on a fine horse with fine saddle bags.
"Good morning, old man," said the stranger.
"Good morning," said the old man.
"How far are you going?"
"To tell the truth, kind sir, I am going just two miles," said the old man.
"And where are you going?" asked the stranger.
"I am going to pay my rent, kind sir," said the old man. "I am but a silly old man who farms a piece of ground. My rent for a half year is forty pounds; but my landlord has been away for a year, and now I owe him eighty pounds. Right glad I am to pay it."
"Eighty pounds! That is indeed a large sum," cried the stranger, "and you ought not to tell anybody you carry so much. There are many thieves about, and you might be robbed."
"Oh, never mind!" said the old man. "I do not fear thieves. My money is safe in my saddle bags, on which I ride."
So they rode along most pleasantly.
When they came to a thick wood, the stranger pulled out a pistol and said, "Stand still, and give me your money."
"Nay," said the old man. "The money is for my landlord. I will not give it to you."
"Your money or your life!"
"Well, if you will have it, you can go for it," cried the old man, as he threw his old saddle bags over a hedge.
The thief dismounted and said, "Stand here and hold my horse while I go over the hedge. You are silly, but surely you can do that."
The thief climbed through the hedge. When he was on the other side, the old man got on the thief's horse, and away he galloped.
"Stop, stop!" cried the thief. "And half of my share you shall have."
"Nay," cried the man. "I think I'll go on. I'd rather have what's in your bag."
And away he galloped, riding as he never rode before.
The thief thought there must be something in the old man's bags; so with his big rusty knife he chopped them into rags. But no money did he find, for the silly old man was not so silly as he seemed. His money was in his pocket.
The old man rode on to his landlord's home and paid his rent. Then he opened the thief's bag, which was glorious to behold. There were five hundred pounds in gold and silver.
"Where did you get the silver?" asked the landlord. "And where did you get the gold?"
"I met a proud fool on the way," said the old man with a laugh. "I swapped horses with him, and he gave me this to boot."
"Well, well! But you're too old to go about with so much money," said the landlord.
"Oh, I think no one would harm a silly old man like me," said the farmer, as he rode away.
The old man went home by a narrow lane, and there he spied Tib tied to a tree.
"The stranger did not like his trade, I fear," said he. "So I think I'll take Tib home."
The old man went home much richer than when he left. When she heard the story, the wife danced and sang for glee. "'Tis hard to fool my old man," said she.
| | | |
| --- | --- | --- |
| | Sources And Further Reading | |
Project Gutenberg The Child's World Third Reader by Hetty S. Browne