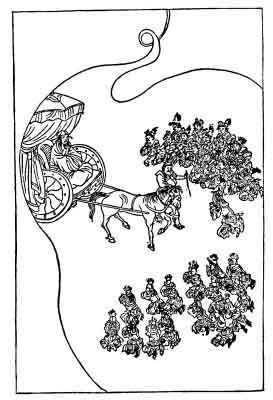 Ho Kwan of Kuang Nan was a kindhearted man and never killed any living thing. He had a jar containing one thousand pieces of silver which he kept in a casket. The white ants, of which there were so many in his district, invaded the casket and ate part of the silver. When his family found what had happened, they traced the ants to a hollow cave where millions of them were living. They thought if they put all of these ants in a crucible, perhaps they could recover a part of the lost silver. But Ho objected to the scheme, saying: "I cannot bear to see all these many creatures killed on account of a small sum of silver."
So they let the matter drop. That night he dreamed that scores of soldiers in white armor came to him, asking him to enter a carriage which they had with them and to come to the palace of their king. Ho Kwan proceeded with the soldiers to a town where the people looked prosperous and the buildings were all magnificent. Numerous officers came to meet him and took him to a splendid palace.
The king, clad in royal fashion, descended from the throne, and, cordially saluting Ho Kwan, said: "By your benevolent acts we have been saved from our enemy. While not forgetting your kindness, the lack of strict discipline among my people caused you some trouble recently, but by your mercy they have again been saved from calamity. How could I let your kindness go unrequited this time? There is a certain tree near your residence readily identified, under which in olden times a certain person buried a jar full of silver. Just dig that out and keep it for yourself. You are the unicorn of mankind (the emblem of perfect goodness) that will never hurt any living soul. It is a pity that you are now too old to enjoy the fruits of your kindness yourself, but your descendents will reap what you have sown."
After this Ho Kwan was escorted back to his own house as before, by armed soldiers. When he awoke he meditated on the dream and found it to be the work of the ants. So he dug up the place as told by their king and recovered a jar buried therein these many years. His son became an eminent scholar.
| | | |
| --- | --- | --- |
| | Sources And Further Reading | |
Sacred Texts T'ai-Shang Kan-Ying P'ien Translated from the Chinese by Teitaro Suzuki and Dr. Paul Carus [1906]