Leonard Leslie Brooke was born in Birkenhead, England on 24 September 1862 and died in 1940. He became one of the leading children's book illustrators of his generation.
Brooke and his wife, Sybil Diana Brooke had two sons. The eldest was tragically killed in World War 1. The younger son was Henry Brooke, who became a British Home Secretary and later Baron Brooke of Cumnor.
L. Leslie Brooke is probably best known for the Johnny Crow series: Johnny Crow's Garden (1903), Johnny Crow's Party (1907) and Johnny Crow's New Garden (1935). Other notable work by Brooke include: Ring O' Roses, The Golden Goose Book, The Nursery Rhyme Book and Oranges and Lemons.
Beneath is one of his illustrations, that amply demonstrates his great talent and humor.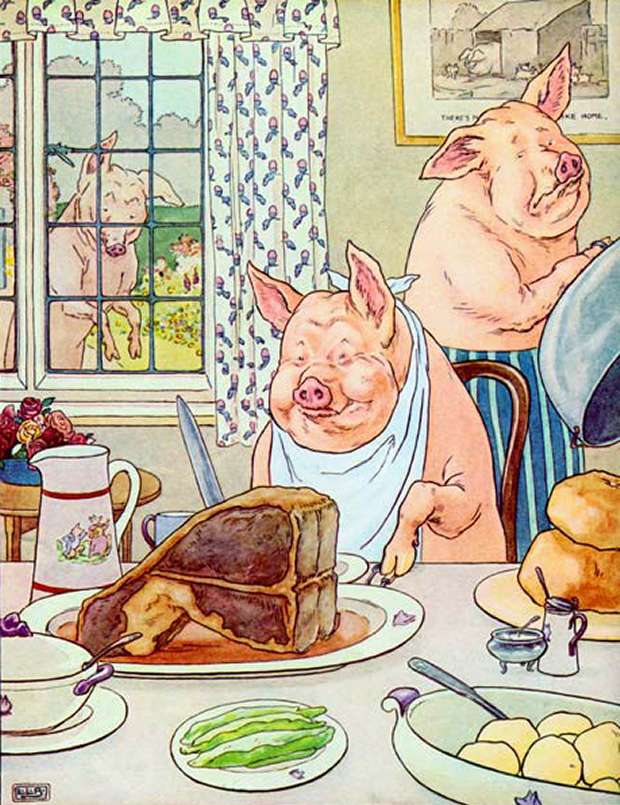 The Three Little Pigs Eating Roast Beef By Leonard Leslie Brooke
Milo Winter was born in Princeton, Illinois on 7 August 1888. He received his art training at the Art Institute of Chicago. He would spend the majority of his life living and working in Chicago.
Milo Winter started his lifelong work as a book illustrator in 1911. Amongst other projects, Milo Winter illustrated Twenty Thousand Leagues Under the Sea, The Three Musketeers, Alice in Wonderland, Gulliver's Travels, The Arabian Nights, Treasure Island and Aesop's Fables.
Winter married a sculptress and had a son, who also became an artist. He moved to New York in the early 1950's and died shortly after on August 15, 1956.
Milo Winter's animal drawings show his great skill and attention to detail. Whilst the pictures are anatomically correct they also contain great humor. Beneath is a great example of his work.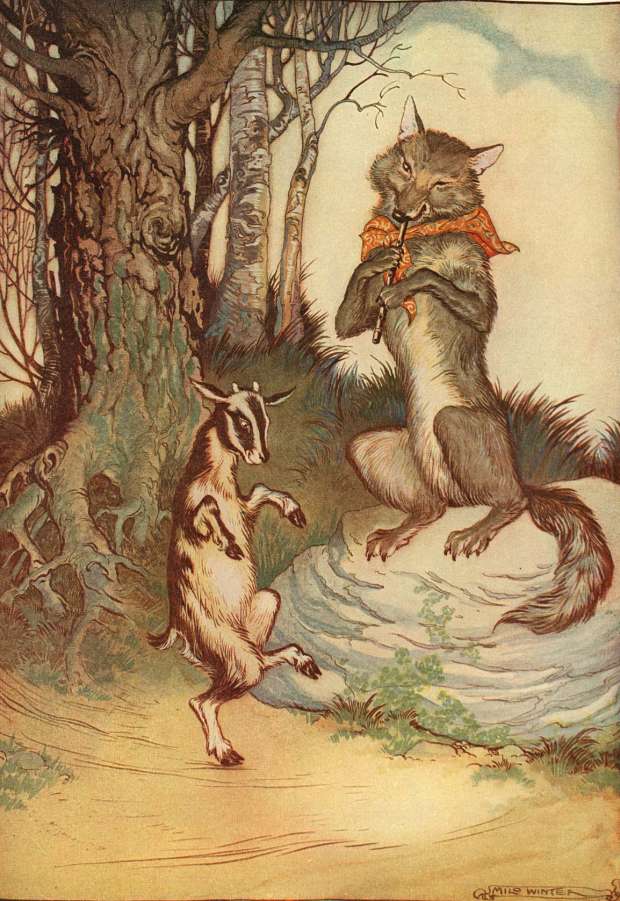 The Wolf And Goat By Milo Winter
| | | |
| --- | --- | --- |
| | Sources And Further Reading | |
Wikipedia Leonard Leslie Brooke
Wikipedia Milo Winter